Common Errors / Solutions
Error Code 02 - Problem Starting BlueLight Internet - The BlueLight Internet software is already running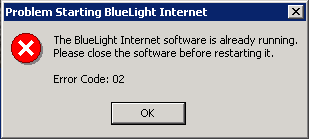 This error is caused when the software is already running and you attempt to start BlueLight Internet. There are several possible causes for this error. The steps below should help you pinpoint the cause of the error and offer a solution.
---
A. Does your computer meet BlueLight Internet's system requirements?
The BlueLight Internet service for PC currently supports Windows 98 SE/ME/2000/XP and Windows Vista.
The system requirements are:
Windows 98 SE/ME/2000/XP
90 MHz or higher processor
64 MB RAM
20 MB free disk space
28.8k modem
Internet Explorer 5.0.1 or higher
VGA monitor with 800x600 resolution
Windows Vista
800MHz or higher processor
512 MB RAM
20 MB free disk space
56k modem
Internet Explorer 7.0 or higher
SVGA monitor with 800x600 resolution
BlueLight Internet does NOT support the following operating systems:Macintosh, Windows 3.11 or earlier, Windows CE, Palm OS, Sega Dreamcast, Sony Playstation 2, Microsoft X-Box, Web TV, Unix/Linux for PC/Mac, and Mobile Phone Web.

---
B. Is BlueLight Internet starting automatically when you turn on your computer?
If BlueLight Internet starts automatically when you turn on your computer, it is because you selected the option to Launch BlueLight Internet on Computer Startup from the Options in the system tray icon or the Companion's Options menu. To turn this option off, complete the steps below:
Click the BlueLight Internet icon in the system tray.
Select Options.
Select Display the BlueLight Internet Taskbar icon when I start my computer to remove the check next to it.
BlueLight Internet will no longer start automatically when you start Windows.

---
C. Reboot your computer
If you continue to receive this error, you may need to reboot your computer. To do this:
Click the Windows Start button and select Shut Down.
Select Restart.

---