Common Connection Errors / Solutions
AOL starts when I connect to BlueLight Internet
BlueLight Internet and its services are not affiliated with or endorsed by
America Online, Inc.
Click on the Windows Start button.
Point to Settings and select Control Panel.
(Windows XP users: click on the Windows Start button and select Control Panel.)

Double-click the Internet Options icon.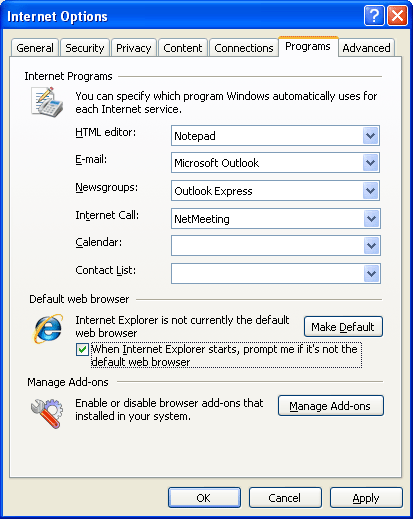 Select the Programs tab.
Change the E-mail and Newsgroups options back to the mail client that you wish to use.
Click Make Default button under Default web browser section to setup Internet Explorer as your default web browser.
Check the box next to When Internet Explorer starts, prompt me if it's not the default we browser.
Click OK.
Retry the BlueLight Internet connection.
NOTICE! You may be prompted to start AOL when you use your BlueLight Internet connection to access the Internet. The following window will appear:
To stop the prompt from reappearing every time you use BlueLight Internet, complete the following instructions:
Locate the AOL tray icon in the system tray, which is in the lower right-hand corner of your screen.



For example:




Right-click on the AOL tray icon.
From the menu that appears, select Auto Start Options.
The following window will appear:
Check the circle next to Don't use any Auto Start options.
Click OK to exit.
---