Common Connection Errors / Solutions
Error 633: The port is already in use or is not configured for Remote Access dial out.
There are several possible causes for this error. The steps below should help you pinpoint the cause of the problem and offer a solution.
---
A. Have you checked your modem and phone cord?
A bad modem or the phone cord not being plugged in might be the culprit. Make certain that all of your phone line connections going in and out of the modem are tight and secure, then try to connect to BlueLight Internet again.

---
B. Have you completely restarted the computer?
Try shutting down and unplugging the computer for 1 minute. Restart the computer and try to connect to BlueLight Internet again.

Note: If you have an external modem with a separate power cord, once the computer is shut down, unplug the modem power for 1 minute, plug the modem back in, then turn on the modem and restart the computer before attempting to dial again.

---
C. It is possible that another program has accessed your modem and has not released it.
It is possible that another software program, such as fax software, is holding on to your modem. The modem can not dial another number until the software releases it. To verify whether your modem is being used by another program, please follow the steps below:
Press and hold the Ctrl, Alt and Delete keys at the same time.

Press and hold the Ctrl, Alt and Delete keys at the same time.
A window appears listing all of the programs running on your system.
For every program EXCEPT Explorer and Systray, click once on each program listed to highlight it, and then click End Task.



Note: Each time that you click on the End Task button, you will have to press and hold the Ctrl, Alt and Delete keys to bring the Close Program window back up.
Try your BlueLight Internet connection again. If this resolves the problem, close BlueLight Internet and restart your machine. Repeat the above steps, clicking End Task for only one program at a time. Each time you use End Task, try your BlueLight Internet connection again. If you encounter the error again, you will know which program is creating the conflict.
After disconnecting from BlueLight Internet, you can launch the applications that you had closed again by restarting your computer.

---
D. Is your modem configured correctly?
If your modem is not configured correctly, BlueLight Internet will not function. To verify that your modem configuration is correct, please complete the following steps:
Click the Windows Start button, point to Settings and select Control Panel.
Double-click the Modems icon.
Select the Diagnostics tab.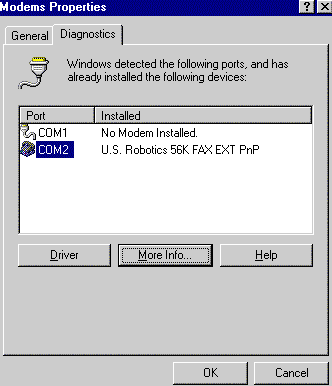 Click the appropriate Com Port where your modem is listed.
Click More Info.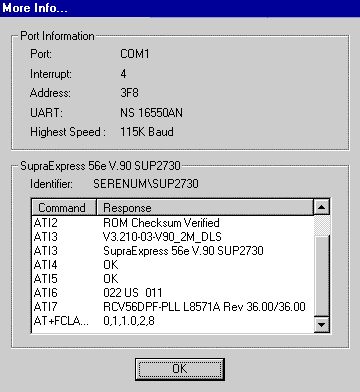 If your modem is configured correctly, it should display port information regarding your modem. Click OK to exit.

Note: If you receive an error message, then you will need to configure your modem. This may require that you reinstall your modem drivers and/or configure your modem settings. If this is the case, you should contact your modem or computer manufacturer for information on configuring your modem. If you are on a LAN (Local Area Network), contact your Network Administrator for assistance.


On your desktop, double-click the My Computer icon.
Double-click the Dial-Up Networking icon.
Click the BlueLight Internet icon to highlight it.
From the File menu, select Properties.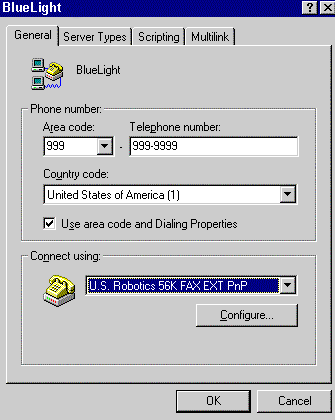 From the Connect Using drop-down menu, select your modem.
Click OK. Close all windows before attempting to dial BlueLight Internet again.

---